Tanaz Mohammadi, O.D.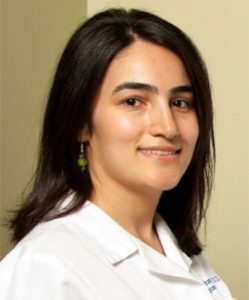 Dr. Mohammadi grew up in Southern California and received her undergraduate degree from California State University, Fullerton. Dr. Mohammadi realized her passion for science and helping people would suit her best in a career in Optometry. She received her Doctor of Optometry degree at the University of California, Berkeley in 2006.
Prior to joining Marin Eyes, Dr. Mohammadi worked at eye care practices in California and supervised an optometry clinic in Los Angeles, providing vision care for an underserved community. She is licensed to perform full-scope optometry encompassing co-managing and treating various health conditions of the eye. She continues her education with seminars to keep up to date with the latest advances in eye care.
Dr. Mohammadi volunteered with the Gift of Sight Organization in 2007 and 2009 to provide eye exams and prescribe donated glasses for patients in rural areas of Mexico and Paraguay. She is very caring towards her patients and believes that quality eye care is of utmost importance. The advanced technology and supportive staff at Marin Eyes enable her to deliver superior eye care.
Dr. Mohammadi lives in Albany where she loves the outdoors and culture of the Bay Area. She enjoys wine, yoga, hiking, and traveling with her husband, Kamrun.
Credentials:
California State University, Fullerton, Fullerton, California – B.S. 2001
University of California, Berkeley, Executive Eye Care Business Program, Berkeley, California – 2005
University of California, Berkeley School of Optometry, Berkeley, California – O.D. 2006
Certified Retinal Reader for EyePACS Diabetic Retinopathy Program – 2010